Your website is quite often the first interaction potential clients have with your Company. And that's what you want! If you have a carefully crafted SEO campaign, people who are in need of your products or services will be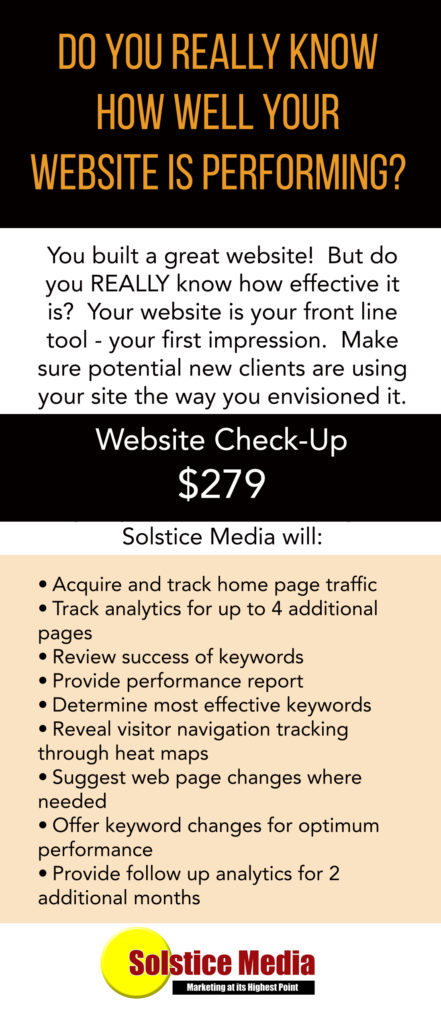 driven to your site. Regardless of wether you are enlisting organic or paid strategies, you must ensure you are utilizing all the tools available to you. Tools, which include Key Words, calls to action and tracking.
So let's talk about those tools. First and foremost are your keywords. Keywords are words or terms, which potential clients will enter into a search on google, bing, etc in hope of finder a provider of products or services. These keywords MUST be present in your web page's content or you will be penalized. It is best to use the most important word as a focus keyword and to reinforce that keyword by using it several times in you post or on your page.
A Call to Action is a very effective way to invite folks to visit your site. If you have a responsive site (And you BETTER – this is a site, which adjusts for mobile devices and smaller tablets) it is a great idea to have a phone number listed in your call to action. This way, when mobile users are searching, then can just tap your number and easily call you. If you want to drive traffic to your website for an e-commerce page, then a direct link to that page is a great tool.
And finally you MUST track your pages' activity regularly. Once a month minimum. There are several tools available for this. The cheapest is Google Analytics. With the proper guidance, you can get a good idea of your traffic, user demographics and unique visits. There are more sophisticated tracking methods, but they can be pricy and confusing.
That is where Solstice Media's Website Checkup comes into play! Should you want a very in-depth analysis of your website's performance, enlist Solstice Media. We will provide you with a very detailed analysis of your site's performance and offer suggestions of new keywords, page re-design and follow up after implementation. Please call Solstice Media today at (610) 529-0122 to schedule YOUR checkup!
Thank you!