Search Engine Optimization – You have built the perfect business providing an awesome service or product. It's time to let your Target Customers know you are out there!  Whether you are interested in a targeted pay-per-click campaign or just improving your organic position, Solstice Media will guide you through the process of selecting the most effective keywords, the best placement and tracking.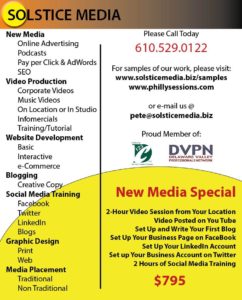 Video Podcasts – Harness the power of this emerging technology. Set yourself apart from your competition. Coupled with Search Engine Optimization, (SEO) your message can really be wide spread.
Graphic Design – Solstice Media's graphic design services include logo design, brochures, direct mail, flyers, handouts, posters, catalogues and any other collateral materials you may need. We know that a great piece is only effective if your message is clearly stated. At solstice we marry the artistic to the effective.
Social Networking for Business – Learn how to start a blog – a powerful positioning tool, create a social networking presence for your business via outlets such as facebook, twitter and linkedin and earn extra profits through affiliate marketing.
Media Placement – Think you can't afford Radio or Television advertising? Well, think again. We pride ourselves on our cost-per-target buying method, which ensures your business the most gross impressions in your desired demographic for the dollar. The same methodology applies to news and magazine print.
Marketing & Branding Consultation – Sometimes you need to get some fresh ideas for your marketing strategies. We offer consultation services for an hourly rate of $80.
Photography / Videography – Unlike traditional photography studios, Solstice Media does not charge you royalty fees to use the photos you hired us to take! Choose from either digital or film. Processing fees do apply and we charge a standard rate of $80 per hour on site and $125 per hour off-site.
Website Development – Solstice can create a custom website for you or build you a template site and train you how to make your own changes down the road. Additional charges to you vary and include items such as hosting fees, domain registration fees and any future changes you may want us to implement.
Limited Retainer Packages – Have the occasional project, but don't want to hire a full or part time employee? Please consider hiring Solstice Media on a limited retainer basis. Solstice Media offers the following Retainer packages:
10 Hours for $600* – 20 Hours for $1000* – 40 Hours for $1,750**
*10 hour and 20 hour packages must be used within a 45 day period. A 50% deposit is required. **The 40 hour package has a mandatory 3-month commitment at $1,750 per month and must be used within 90 consecutive days. A 50% deposit is required. Retainer packages are for service time only and can not be applied to physical items such as print materials, hosting costs, file storage, Data Cards, etc.