Every Child dreads back to school campaigns!  They are the sign that Summer Vacation's end is near!  But Back to School means so much more than that.  It is the season when consumer spending switches from vacation spending to retail spending.  Businesses are in full swing and their message needs to get out there.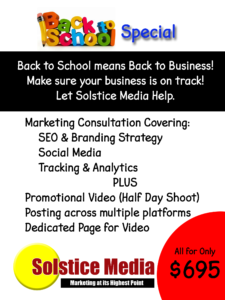 What is your business doing to reach out to your clients and potential clients?  Are you ready for the busiest time of year?  I'm not just talking about Holiday shopping – although that IS huge, but this is only the second month of business on many businesses' fiscal calendar and they need to get busy!  They need your products and services now!
Do you have a clearly defined marketing strategy?  Do you have a clearly defined customer base?  Are you targeting your potential clients properly and effectively?  ARE YOU TRACKING YOUR RESULTS?
What about your message?  Once you know who you want to reach, you need to send them a clear and concise message.
Solstice Media is offering an AWESOME deal for our present and potential clients.  A complete review of your marketing strategy and training on how to effectively track your results as well as a video of your business and promotion of that video across multiple platforms.  All for only $695.  Compare at $1500 ++!
Contact Pete Ricci at 610-529-0122 or pete@solsticemedia.biz for more information!
Enjoy the rest of your Summer!!